Welcome on my first blogpost in English. Why that? Because its conference time – this time in Thailand! I heard from friends that it's worth to attend at the SEO Conference in Chiang Mai. It was created from Matt Diggity, a clever affiliate marketer.
Please find my Chiang Mai SEO Conference Recap 2018 here.
About the program / things to point out
The schedule is mixed with some interesting topics, regarding marketing in general. Its not 100% focussed on SEO. You can find also non SEO-related strategies, how to promote your videos online, or some hints about conversion rate optimization, how to target facebook audience and so on.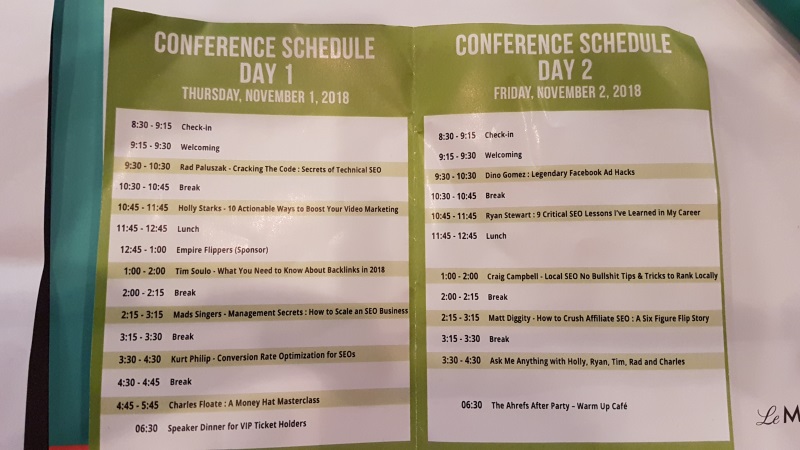 Backlinks: Different than in Germany, and especially when you work for big brands like I do for, linkbuiding is not the main focus. Of course they are still one wheel in the mix, but its just one, and not the most important. During the conference I got the feeling that for many its still very important.
Technical SEO: There were some presentations about technical SEO, or Onpage SEO, but they have been real basic level. So there wasn't something I could learn in this topic. But we're talking about 2018 with machine learning methods, advanced techniques, such as word 2vec, strong influence of user behaviour of ranking  – so this should be represented much stronger.
Video/ Facebook Marketing: My skills in this side topics are only on basic / advanced level, but I am not an expert. There were some useful hints and ideas on how to advertise niches with aren't able to advertise on facebook ?.
Structuring & Scaling: People who know me, can prove that I am very structured person, who has always a plan what to do, in which order. There were some speakers who showed a very well structure how to scale business, how to set up a project from the scratch or how to handle customers in a professional way. I am pretty sure, that for starters it's a good help to begin with business.
Tool presentation: It was very obvious that the conference was sponsored from some companies. Also from ahrefs – a tool I like and use as well. But in my personal opinion it was too much "advertising character". I would love to listen to some studies or to some results they got from their data. But it was more a presentation about how the tool is working – even there are tools which are way better (in certain issues, such as keyword analysis….)
Automatization & Grey hints: On conferences like SMX, SEOkomm and other large, well known conferences there are mostly presentations from John Mueller or other Googlers. They wouldn't attend there, if there were some grey techniques teached ?. Here its different, and that's also very important for a SEO to know.
Speakers: Some speakers I know from Germany almost behave like superstarts ?, the speakers here were all layed back, easy to reach and willing to share insights and knowledge they practised in reality. On other conferences I heard famous speakers saying "we only do so good content marketing" and when I analysed their client links, they were crap!
Business related: The discussions and speakers are always super business related. Its not about blabla or Inhouse SEOs who get paid and don't think like business man. Here everybody spends his own money, so they are always interested and focussed on the business impact, more that branding or other stuff.
Hands on: I would like to highlight the presentation of Matt Diggity, he offered some insights about a website he bought and changed into a gold mine. He pointed out the steps of finding the content gap, cleaning up links, creating clean new ones and raising revenue by increasing conversion rate, targeting valuable topics and so on.
About the participants
I had many chats with guys from USA, Australia, India, UK – all around the globe. That was awesome, because I received so many strategies, viewpoints, niches someone is targeting or just had a chat about their favourite beer ?.
My focus is on 100% on SEO, sure there are some side topics (targeting, social, UX, online marketing in general, performance, CRO…) which are related, and as a good SEO you need to have knowledge in it – but many other participants where not even marketing related. They were jumping on the affiliate train so get a slice of the cake. An advantage, because to get a total different view on things – and a disadvantage as well, because they are too far away from expert knowledge.
About the location
The conference took place in at the "Le Meridien" Hotel. An awesome 5 star hotel, located in the heart of Chiang Mai. The city of Chiang Mai is a lovely place, in the north of Thailand. We had great afternoons, listening to the presentations and funny evenings checking out the city, driving tuk-tuk.
It was my first stay in Thailand and I am very impressed by the friendly mentality of the Thai-People. It wont be my last stay and I am looking forward the vacation which follows now.
My Recap summary
So sum it up in one sentence: I will come again, it was totally worth to attend at the Chiang Mai SEO Conference! To go a step deeper see some things I want to point out in a very positive way and also areas of improvement.
Positive
Location: Super great pleace, nice hotel
Speakers: Down to earth guys who don't hide their knowledge
Insides: You'll get insides of grey and spammy tactics, that's brilliant
A lot of input about linkbuilding
Cheap: The price of the event is really fair
Great networking opportunity with great people from all over the world
Negative
Some important stuff of SEO is missing for me, such as page speed optimization, onpage SEO…
Some presentations were on basic level (but maybe that was for some attendants the right level)
I hope you liked my Chiang Mai SEO Conference Recap. Big thanks to Matt Diggity who organized a great event – see you next year, it was a pleasure to attend! Read another recap from Max, Owner of the SEO-Atleier.